Sentinel - Bio-fungicide for the control of botrytis grey mould
A bio-fungicide containing Trichoderma atroviridae for the control of Botrytis cinerea, also known as grey mould. PRICE: $500 per kilogram plus GST and Freight
Trichoderma atroviride (Strain LU132)
in a wettable powder form. Not less than 2.5 x 109 beneficial spores per gram, available in 200 g or 1 kilogram bags, 200 g is sufficient to treat 1 hectare.
Sentinel
is a commercially tested and proven registered bio-fungicide for the control of grey mould (Botrytis cinerea) on tomatoes. Sentinel is a biological control agent, a living organism, and acts best as a preventative.
Developed from a new strain of Trichoderma, LU132, the beneficial fungus aggressively colonises the foliage, flowers and fruit to protect against the development of botrytis stem rot on tomato vines, which often occurs from wounds made after leaf and truss removal. Sentinel actively repels invasion by botrytis.
Sentinel
has no maximum residue limit, withholding period, or re-entry interval, which allows the grower to apply the bio-fungicide when needed, without complication. It is a Bio-gro certified organic product and produces no residue on the crop.
Although botrytis is renowned for developing resistance to conventional chemical fungicides, no such resistance to
Sentinel
is likely to occur due to its unique biological activity, and is a cost effective equivalent to other products on the market. Sentinel is an environmentally friendly alternative to chemical sprays.
Be on guard with
Sentinel
, the proven biological treatment in the battle against Botrytis.
Product Label - 200 g
Product Label - 1 kg
Safety Datasheet - SDS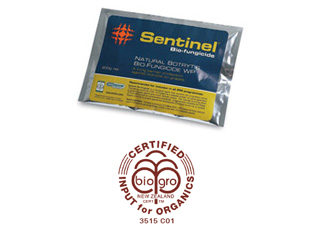 | | | | |
| --- | --- | --- | --- |
| Tomatoes | Botrytis stem rot | 200g per hectare in 500 litres of water. | Spray entire crop to run off ensuring all stems are well wetted. Apply every 14 - 21 days or shortly after leaf or truss removal. |

No withholding period, MRL or re-entry interval
Store at 4-6 degrees (e.g. in a refrigerator)
DO NOT FREEZE
Use contents within 28 days of opening the sachet